Eyelash Extension | Ombre Eyebrows | Microblading | Facials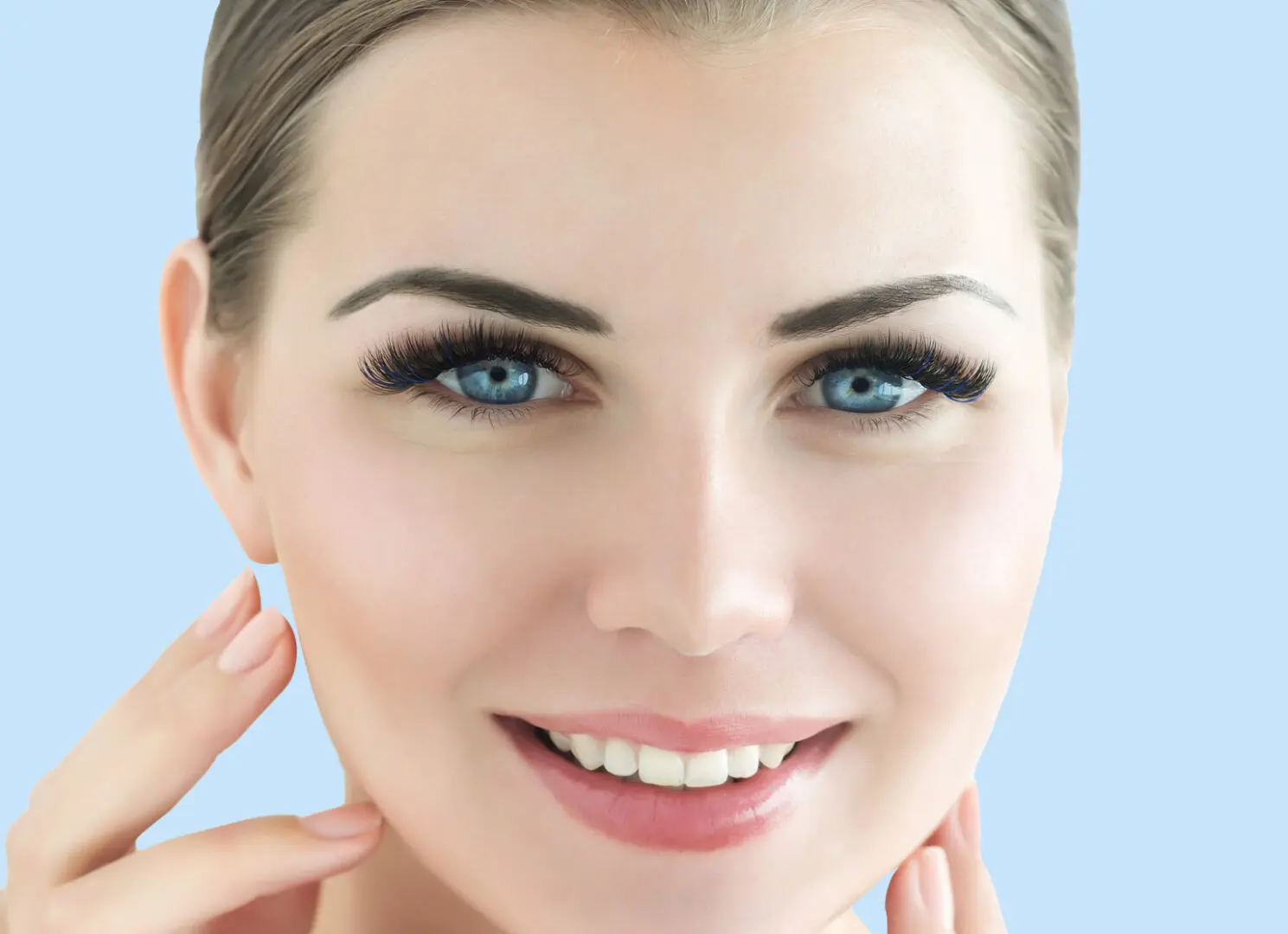 Sassy Lash: Eyelash Extensions,
Permanent Makeup & Facials
Welcome to Sassy Lash, one of Orange County's longest-established lash extension salons, renowned for exceptional services in eyelash extensions, ombre eyebrows, microblading, and facials. Since 2005, we've been dedicated to delivering superior beauty services, promising eye-catching results and long-lasting lashes.
Our professional team comprises highly skilled and certified lash technicians, excelling in sophisticated application techniques like classic, hybrid, wispy, volume, and mega volume lashes. Transform your natural lashes into an exquisite, personalized look that reflects your unique style and personality.
At Sassy Lash, we're not just about beautifying you; we're specialists in restoring damaged lashes, with a solid commitment to maintaining your lash health for years to come. Embark on your beauty transformation journey with Sassy Lash - where quality, longevity, affordability, and excellent customer service are always our top priorities.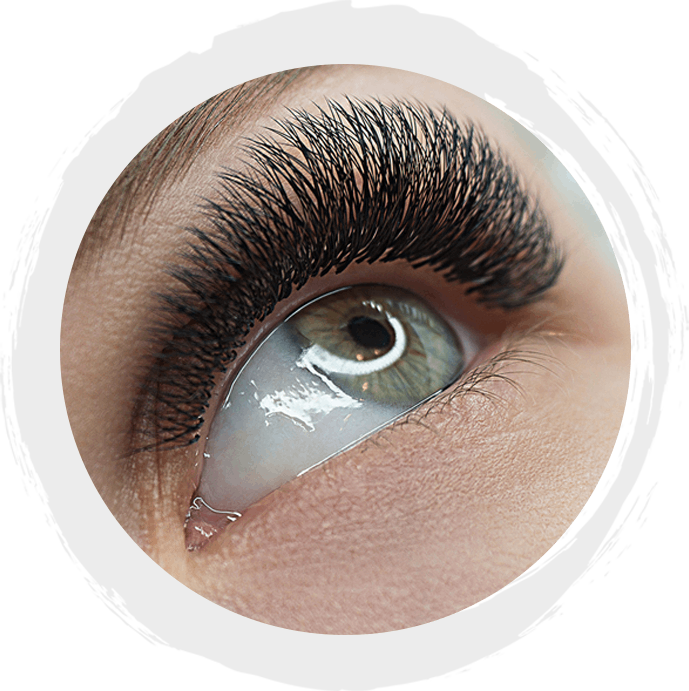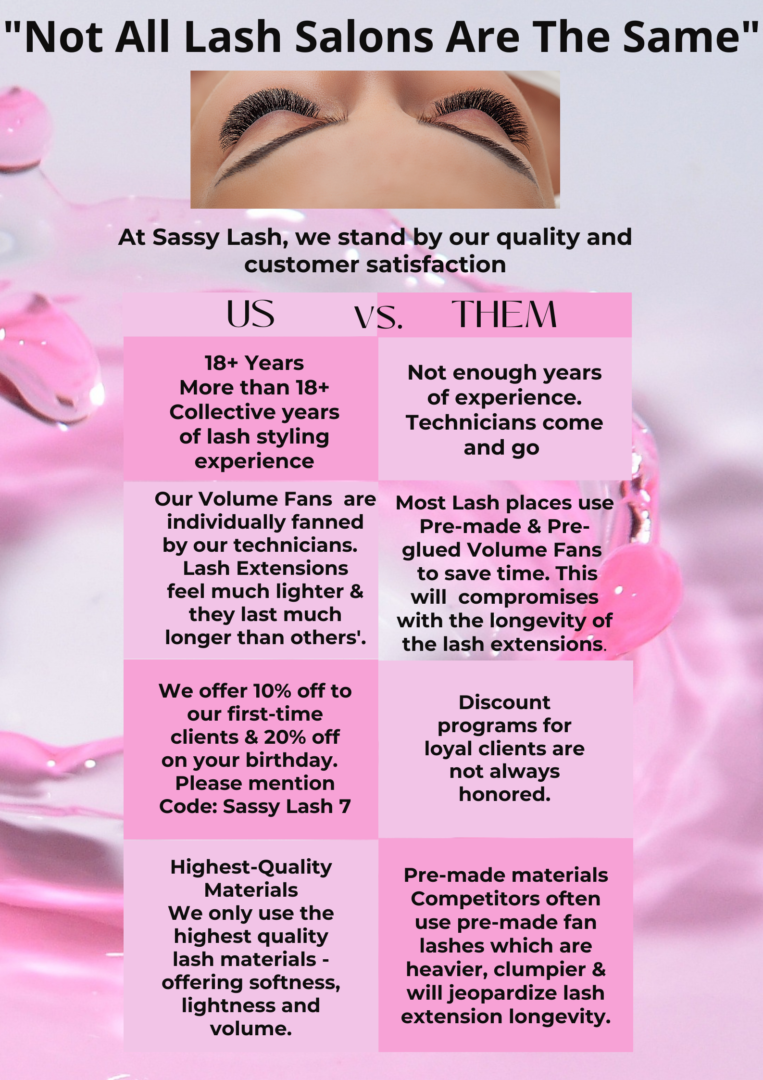 Discover the Sassy Lash difference today and experience the finest quality in lash and beauty services. Check out the gallery page to view our work.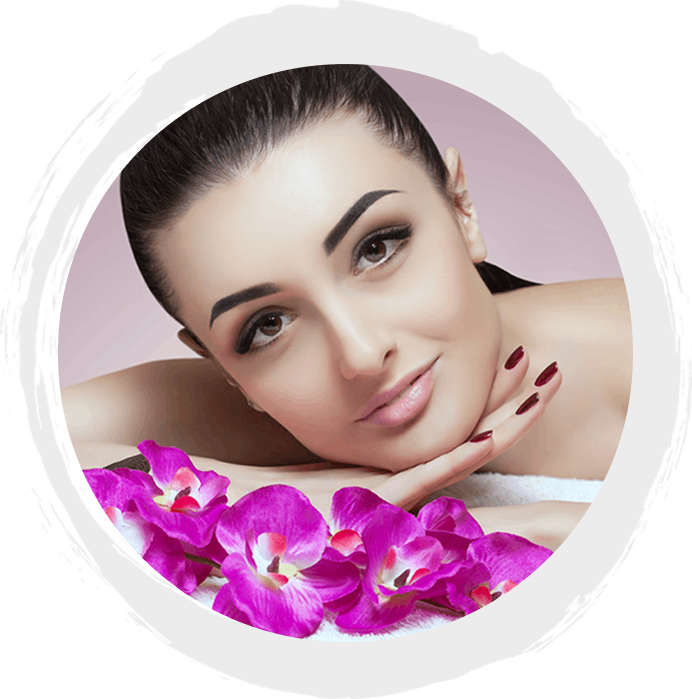 Experiences Shared by Our Happy Clients
I made a mistake and went to another lash place first with disastrous results. Julie is the only person I will ever allow to do my lashes. She is so knowledgeable and has an artistic eye to create the most natural and beautiful result.
Thank you Julie!
I love Julie! Her volume lashes are so light and fluffy, I can hardly tell they are there, and they are so long lasting. They looked wonderful after 4 whole weeks, which included a two-week vacation overseas in all kinds of weather - hot and humid with surprise thunderstorms in Barcelona, and frigid, wet temperatures in the Baltic, not to mention all the flights in between destinations. I didn't have to worry about lugging around my false eyelashes and glue, which can take up so much space and be a pain to put on and take off. Getting ready was so much faster and left more time to start exploring early. Julie is such a pleasure to talk to, and we can talk about anything! She makes me feel at ease and her work is perfection! Thank you so much Julie!
Julie (Sassy Lash) is the best! I have been looking for a lash artist as good as her and I am so happy that I found Her! She truly is an artist and really gives the best lashes. I love the style that she is able to create with my lashes and they last much longer than any other lash place that I have gone to.
This review is late. Julie has been doing my lashes for close to a year now and I am hooked. Why you ask? Let me count the ways. I get compliments everywhere I go. They last 3-4 weeks. She is such a perfectionist from making sure your lashes are clean from the start, to making sure they look exactly right and everything in between. Best lashes ever. Thank you Julie!
Wow! Everytime I get my lashes done here, I feel and look like a million bucks! Julie is a true artist, and takes pride in her work. I have had eyelash extensions done elsewhere over the years, but they have never even come close to looking or feeling like the volume lashes I have done with Julie here. Previously, I had issues with other places like clumping, losing lashes immediately, real lash breakage as well as allergies to glue. I have not had any of these issues here. If you are looking for quality lashes and a VIP experience, this is the place to go. Julie will customize your lashes to your style and liking and ensures that you will be extremely pleased with her work. After all, shouldn't we all feel like a million bucks?
My short and sparse lashes have always frustrated me until I heard about Sassy Lash in a magazine article. Soon after, I called and made an appointment with Julie. My first full set was so amazing, I could not contain my happiness! Despite being thick & lush, they were also light-as-a-feather. It really felt like they were my own. Since then, I have become Julie's regular customer. I couldn't imagine myself NOT having her put those gorgeous lash extensions. And by the way, not all lash extensions are created equal. A friend of mine went to an expensive salon that charged her twice as much but the lashes she got looked like crap! I told her to see Julie and once she did, she was also hooked. Well, enough said. You got to try her to see for yourself what I'm talking about.
Julie is the pioneer of lashes extension and has been doing it for almost two decades. Many of us have been clients of hers for years. Now that is a significant thing for some of the new lash's fans. Let me try to explain why this is so special: 1) lashes are a delicate thing and if you can continue to have maintenance for years - you need to have a super expert that NEVER risks the chance of you losing your own lashes. Sadly, many newcomers may be able to do great lashes (the first few times) but they jeopardize your natural lashes and very soon. You are losing your own lashes and after a few months - your lashes are thinning and spotted. You will have to go to someone like Julie to repair and bring them back and handle it with real care. Lashes are not about how full they look the first day, if you are wanting to continue to have them - you must find someone who uses the best product and just glue a chunk of them on your tiny lash. The long-term damage can be very bad. 2) Again, many of her clients are secretive about going to Julie. Why? because for years, many of us probably never told friends that we have extensions 😉 People never asked me where I have extensions - they always praised how lucky I am to have such full lashes and what product/mascaras I use to make them look so pretty.  Julie's work is so natural. She is the best.
I have been a client of Julie's for over 5 years now, I will never go to anyone else to touch my lashes but her. Julie is an expert if you want lashes. I get so many compliments and cannot live without my lashes. She is a wonderful person, and I wouldn't recommend anyone going to anyone else but Julie if you want natural looking lashes. She is one of the pioneers of lash extensions and people will drive all across town just to see her. There are a lot of new places & people who now claim to do lashes, but you do not want to trust anyone with a delicate thing like your lashes, you can trust Julie to do a great job and make you look beautiful!